Underwater Construction Corporation is driven to provide the best possible commercial diving services, including, inspection, maintenance and repair, construction and rehabilitation, and technical support services.
Our services minimize downtime, maximize budgets, and are completed efficiently with lasting results. Our clients represent a broad array of industries, including: water utilities, power and gas transmission, engineering, mining, pipeline, and homeland security.
Highly Trained & Capable Dive Teams
We are confident in delivering a very high standard for our services, performed by our highly trained and capable diving teams. Our team has a strong understanding of the equipment, techniques, and systems required to deliver our services successfully.
Working from six geographic locations – Connecticut, Michigan,  South Carolina,  Texas, Tennessee, Wisconsin, and England – allows us to quickly mobilize and respond to all types of projects throughout the United States.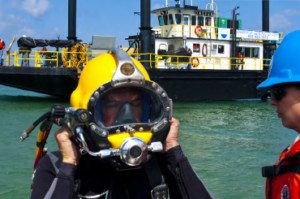 Commitment To Quality & Customer Service
Our commitment to customer service, quality, and safety, has earned us a good name and has set us apart from other commercial diving companies in the country. Our forethought, planning, and attention to detail have also made Underwater Construction Corporation a leader in the diving industry.
Nothing is impossible with Underwater Construction Corporation. Supported by our expertise and years of experience, there is no project we will turn away from.